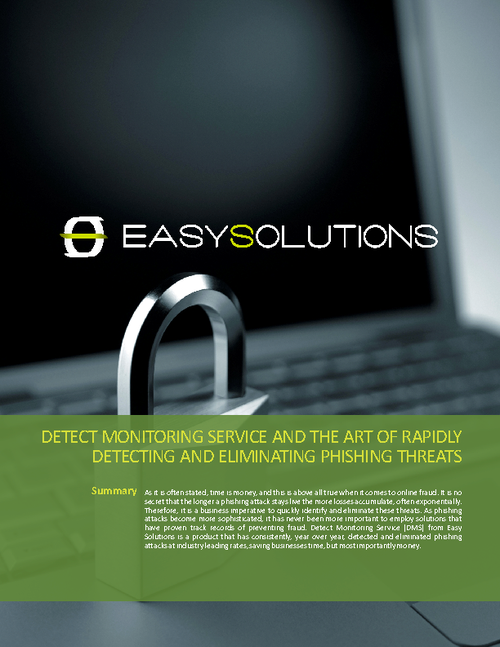 As it is often stated, time is money, and this is above all true when it comes to online fraud. It is no secret that the longer a phishing attack stays live the more losses accumulate, often exponentially. Therefore, it is a business imperative to quickly identify and eliminate these threats. As phishing attacks become more sophisticated, it has never been more important to employ solutions that have proven track records of preventing fraud. Detect Monitoring Service (DMS) from Easy Solutions is a product that has consistently, year over year, detected and eliminated phishing attacks at industry leading rates, saving businesses time, but most importantly money.
Key points include:
Early phishing attacks have evolved into a much more targeted, streamlined and lucrative business for cybercriminals.
Simply reacting to phishing attacks is a passive way to combat fraud; instead security executives should look to solutions that are legitimately proactive and actively monitoring for fraud.
Detect Monitoring Service from Easy Solutions detects and eliminates phishing attacks at industry leading rates by proactively monitoring client websites, finding over 71% of fraud incidents before our clients.