Market in Flux: No Need to Panic
Experts See No Long-Term Impact On Fraud Investments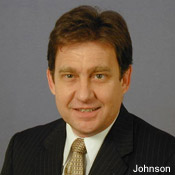 As market fluctuations continue, the Federal Reserve is watching. On Tuesday, the Fed announced it was holding down interest rates.

Upon the news, the Dow Jones Industrial Average bounced back, up 429 points from its more than 600-point plummet on Monday. The S&P 500 jumped 4.7 percent and trading for Bank of America and Citigroup saw upticks of about 13 percent.

But industry pundits such as Tim Ghriskey, chief information officer at wealth strategy and asset-management firm Solaris Group LLC, say it's just too early for the Fed to make a call on what the long-term impact on the economy and U.S. financial institutions will be. [See Market Collapse Worst Since '08.]

"We're really talking about investor sentiment and investor psychology at this point," Ghriskey says.

Doug Johnson, vice president of risk management policy for the American Bankers Association, says alarmist reactions would do bankers more harm than good. "The market fluctuation was one day in time. I don't think it's going to have a long-term impact," he says.

Johnson also points out that, despite overall dips in share prices, banking institutions are not expected to decrease investments in fraud prevention. "I don't think there's any connection between the market fluctuations and the investments banks will make in fraud prevention," he says. "It's not about making budget cuts; it's about protecting the customer relationship and ensuring security. Banks know we need to be very careful how we protect customers."

Mike Mancusi, managing director at FTI Consulting and former senior deputy controller with the Office of the Comptroller, says banks will closely analyze mandates versus what's deemed good practice or a "nice-to-have."

"I suspect they're going to look at when they'll have to spend or make certain investments," Mancusi says. "Some of the spend will be deferred until things improve. Again, I think anytime banks have to comply with something, they're going to spend to comply. If it's something that enhances their practice, in difficult times, they'll defer that spending."

When it comes to complying with the new FFIEC Authentication Guidance, Mancusi says spending for fraud-prevention could be affected. "The FFIC guidance is there to tell you how to manage or address a particular area," he says. "But during an examination, if you're in compliance, you're not going to be cited for a violation of an act or a safety practice," unless one exists outside the guidance.

In light of tightened budgets, how banks might balance fraud-prevention investments with investments in anti-money-laundering solutions that help them comply with the Bank Secrecy Act and the USA Patriot Act, for instance, is difficult to estimate.

But Julie McNelley, a fraud and financial services analyst at Aite, says making generalizations about future fraud investments is risky.

"Each bank's environment is unique, and it really depends on where they feel the internal need is the greatest," she says. "All things being equal, I would give a slight edge to fraud-prevention technologies, particularly those that can provide a revenue-augmentation component. A fraud-prevention technology can provide an improvement to the customer experience, through reduced false-negatives, or through the opportunity to deploy new products. This is a powerful business case component any time, but particularly so in times of recession."
Long-Term Effects
Mancusi says gauging the long-term impact of current market fluctuations is difficult. Besides, this market plunge is different than the one the market felt Sept. 29, 2008, when Dow stocks dropped 778 points, the S&P fell 60 points and the NASDAQ dropped 137 points.

"The financial institutions have taken a real beating. They are definitely being hit hard in the market," he says. "I don't know that this market is necessarily going to cause more banks to fail, though, because the things that are going on in the market are not the typical bank-lending activities that led to the number of failures we saw a few years ago. This is something that is dealing with what S&P says about the debt rating in the U.S."

More bank failures are coming, but they would have come regardless of whether the market took a plunge. "The FDIC has a considerable list of problem banks," Mancusi says. "I think we'll see more failures, and the FDIC selling the deposits and some of the assets to stronger institutions."

Johnson says the market fluctuations should encourage core processors to offer more fraud-prevention solutions and measures that are linked to AML. [See AML Case Study: New Way to Fight Fraud.]

"There's a clearly a need to do that, and it does affect the cost if those two are together," he says.

McNelley adds that nothing is ever exempt from budgetary cuts, of course, but says "there will be increasing pressure on all vendors to prove their worth, whether they are incumbent or new solutions."

"The bar for new business cases also rises during times of recession, as IT resources are typically even more constrained than they are during the positive economic times," McNelley says. "Fraud-prevention vendors will need to show their ability to provide a solid ROI, and if they can also show how their solution can help minimize false-negatives, thus improving the customer experience, that can be a powerful way to help prioritize their business case versus others competing for shared resources."