Events , RSA Conference , RSA Conference Featured
EMV Push in U.S. Moving Forward
Visa Exec Says Liability Shift Date Won't Be Delayed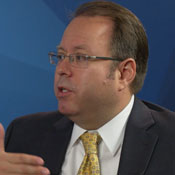 Eduardo Perez, Visa's senior vice president of risk services, says the U.S. push for EMV is moving forward, even though a majority of U.S. merchants will not make the October 2015 liability shift date.

In an interview recorded at RSA Conference 2015, Perez discusses what Visa is doing to help merchants with their EMV migration, and he also touches on:

See Also: The State of Enterprise Mobile App Security 2023: Results Analysis
Visa's take on chip and signature versus chip and PIN;
How transactional and behavioral analytics will put the U.S. ahead of the fraud-prevention curve;
How much fraud merchants will be expected to absorb after the liability shift date, if they aren't compliant.
Perez has been with Visa since 2002 and currently leads the card brand's Risk Services group. He manages a team that focuses on guiding U.S. and Canadian issuers and acquirers in optimizing their risk performance to maximize the growth of their payment programs. He has extensive experience in payment system risk and has previously led other key risk management groups and initiatives within Visa, including global payment system security, global credit settlement risk and anti-money laundering programs, as well as the development of Visa's authentication strategy and U.S. EMV chip roadmap.
Additional Summit Insight:
Hear from more industry influencers, earn CPE credits, and network with leaders of technology at our global events. Learn more at our Fraud & Breach Prevention Events site.