Events , RSA Conference , RSA Conference Videos
Cyber-Attacks: The Internal Threat
Fortinet Exec: Businesses Must Secure Networks from Inside Out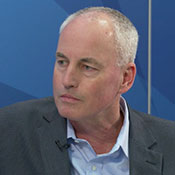 John Maddison, vice president of marketing products for Fortinet, says not all threat intelligence is created equally. While many businesses are doing better jobs than they were 12 to 16 months ago of sharing cyberthreat information with competitors and law enforcement, most continue to fall short when it comes to shoring up their own internal protections, he says.
In an interview recorded at RSA Conference 2015, Maddison discusses what businesses should be doing to ensure they are focused on mitigating the "real" threats that are putting their networks at risk, as well as:
The difference between external and internal cyber-intelligence and threat information sharing;
Why securing the perimeter gives organizations a false sense of security; and
Why hackers' attacks are patient, calculated and painfully difficult to detect.
Maddison has more than 20 years of experience in the telecommunication, IT infrastructure and security industries. Before Fortinet, he held positions as general manager of the data center division and senior vice president of core technology at Trend Micro. He also served as senior director of product management for Lucent Technologies.
Additional Summit Insight:
Hear from more industry influencers, earn CPE credits, and network with leaders of technology at our global events. Learn more at our Fraud & Breach Prevention Events site.