Events , RSA Conference , RSA Conference Featured
Authentication: Going Beyond the User
Jardine of Easy Solutions on Essentials for Fraud Prevention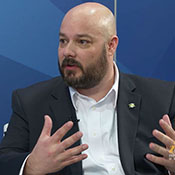 Stronger authentication is just a piece of the fraud-prevention puzzle. Whether it's securing mobile payments or online banking transactions, banking institutions understand they can't solely rely on front-end authentication to verify any user.
More emphasis is being placed on back-end analytics and monitoring that remove the user from the authentication process, says Bryan Jardine of Easy Solutions. In an interview recorded at RSA Conference 2015, Jardine discusses:
Why layered security that does not involve the user is increasingly critical;
How mobile payments and e-commerce are opening the door for new ways of thinking about user and account authentication;
How crafty schemes are getting around some of the most seemingly secure authentication methods and systems.
Jardine is an experienced technology professional with eight years of experience in building, deploying and managing anti-fraud organizations. Today, Bryan serves as product manager at Easy Solutions, where he plays a key role in the creation of the most innovative and comprehensive fraud prevention and detection solutions available in the market. Before Easy Solutions, Jardine held a number of management roles at E*trade, a leader financial services organization, where he was responsible for the design and implementation of anti-fraud strategic programs, including controls and policies that reduced fraud related losses by 65 percent annually.

Additional Summit Insight:
Hear from more industry influencers, earn CPE credits, and network with leaders of technology at our global events. Learn more at our Fraud & Breach Prevention Events site.